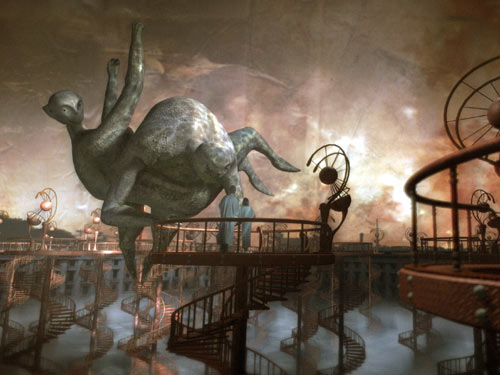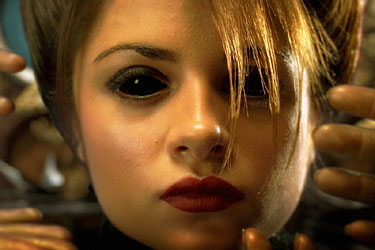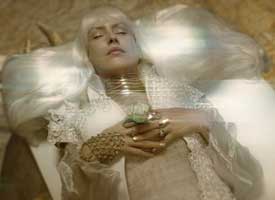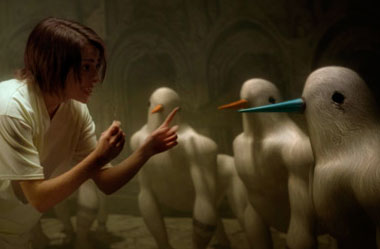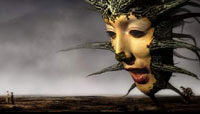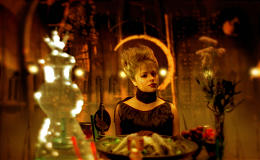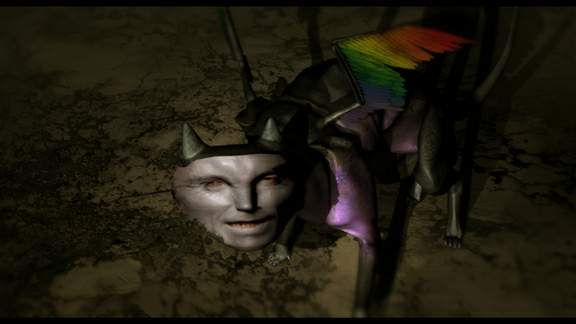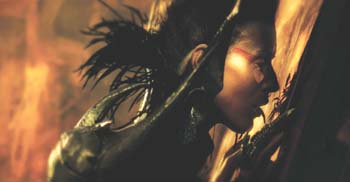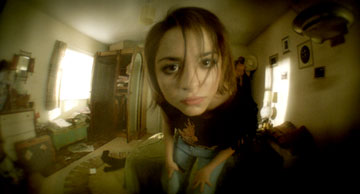 Hieronymous Bosch Takes Acid
"Mirrormask" is an inspired and ethereal journey into a CGI world filled with Bobs, Giants and spiders in a dark, gothic atmosphere for which writer Neil Gaiman and artist Dave McKean are famous. As a long time fan of Gaiman and the exceptionally talented artist McKean (recently a special effects consultant for "Harry Potter and the Prisoner of Azkaban"), I hoped a movie combining both of their talents would produce both a moving story and a feast for the eyes. Like the troubling landscapes of Max Ernst, Salvador Dali or Hieronymus Bosch, McKean and Gaiman have created an bold and abstract universe and story which is entertaining and unique, but sadly only some of it makes truly memorable watching.
After a slow start, the screenplay contains subjects for which Gaiman is best known - struggle of adolescence, independence and discovering one's own strengths when lost in strange realms. The picture centres on the life 15-year-old Helena (Stephanie Leonidas), a juggler and performer in her father's travelling circus who longs to escape to the real world. One night before her performance, Helena and her mother (Gina McKee) fight and when Helena says she hopes to be the death of her, she collapses into a serious illness and is taken to hospital. Helena who is convinced she is to blame, is transported to a strange dreamlike world called the Dark Lands and is asked to go on a quest to restore their kingdom to balance. On her way she finds she must confront her dark side and her desire to leave her circus life for the real world. .....With much obvious talent on both their parts and in a cast which includes Gina McKee ("Notting Hill," "The Passion"), Stephen Fry ("Wilde"), Andy Hamilton ("Bob & Margaret"), Robert Llewellyn ("Red Dwarf") and newcomer Stephanie Leondias ("The Bill," "Holby City), it is often underused, leaving the picture flat and lacking in direction and it is disappointing that the story and characters were not more fully developed.
Created on only a $4 million dollar budget, "Mirrormask" was shot on location in Brighton and in studio using blue screen in London, where each of the actors were filmed separately, to be linked together in animation through the combined efforts of the Jim Henson Studios and 16 animation artists - many who were recent graduates from Bournemouth University. Produced by Simon Moorhead (writer and director the British cult tv series "Ghostwatch Live") with the assistance of Lisa Henson and members of the Henson Studios, it contains some impressive cinematography by Tony Shearn, also of "Ghostwatch," who of late has worked in collaboration on several short films with McKean. The movie premiered at the Sundance Film Festival and has gone on to critical acclaim at the Lorcano, Saransota and Edinburgh Film Festivals and winning an award for best narrative.
Whilst original for a motion picture, the art is fairly typical McKean. In the style of Jean-Pierre Jeunet's "Delicatessen" or "City of Lost Children," like Alice in Wonderland you find yourself with Helena in strange world where you are not sure where you will end up. The animation, also somewhat similar to "Fantasia," is a style not seen often enough in recent years, surprising for the growing interest in and technological advances with CGI. A graduate of and some time teacher at the Berkshire College of Art and Design, McKean is well known for his strange collages, spare line drawings and otherworldly style which can be seen throughout "Mirrormask," on the covers of cd's and in combination with Gaiman's writing in several comic series and graphic novels including "Sandman" and "Mr. Punch." In recent years, both he and Gaiman have been involved in various film or tv productions including McKean's short films "N(eon)" and "The Week Before" and Gaiman's graphic novel "Neverwhere" which was made into a tv series in 1996 by Dewy Humphreys.
Continuing in the same vein as "Neverwhere" and "Sandman," the surreal, etheric world of the Dark Lands is a journey into pure fantasy and mystery which was a feat not only on a creative level but also technologically for McKean as a director and animation supervisor. Created using Maya and Photoshop, many of the images are dark, with a similar feel and creatures to those found in "Black Orchid," "Signal to Noise" and"Cages" and contain a heavy use of sepia and dark tones, inspired by black and white films from the silent era. Unfortunately with the over-use of images commonly seen in McKean's work, "Mirrormask" becomes familar, losing it's ability to enchant. Despite charming concepts such as the animation of the sphinx, much was also gloomy, drab and as discordant as the soundtrack by Iain Bellamy. Most disappointing, Gaiman also stuck close the formula his past successes in the world of graphic novels, so neither stretch their boundaries quite enough make the picture as absorbing as it could have been. A future anime series has been scheduled to be written by Neil Gaiman and produced by Tokyopop, so possibly their original ideas will be further expanded as Helena's journey continues.
While not perfect, it is a definite collectable for those who are fans and is a must see for McKean's style and the unique concept. Maybe some day, "Mirrormask" will become, in the words of Gaiman, what Lisa Henson hoped before beginning the project:
"It's become obvious that Labyrinth and The Dark Crystal, these two family fantasy movies that Henson made in the 80s, which at the time were both regarded as being flops, have gone on to have this life-forever...we want to do something like that again.'"
A world of untapped possibilities
Film Critic: Jennifer M Lillies